ProMaster Recalled Because Shifter Cables Can Detatch From Transmissions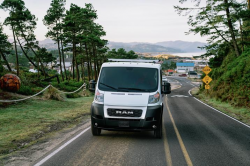 Some of the 2014-2019 ProMaster's gear shift cables were kinked during installation, increasing the chance they'll seperate from the transmission at some point.
When that happens you might have situation where the gear shift lever says PARK but the transmission is most definitely still in OMG REVERSE.
The vans all have the 3.6-liter engines. The recall is expected to begin in March 2020.