The EcoDiesel's EGR Cooler Leaks Coolant and Sparks Fires
Posted on

Author

Tagged
Key Points
The 2014-2019 Ram 1500 has a leaky EGR cooler that can start fires in the 3.0L EcoDiesel engine.
The coolers crack under thermal fatigue and were recalled after a number of fires were reported.
A long awaited fix and international parts shortage forced many owners to park their trucks over fire fears.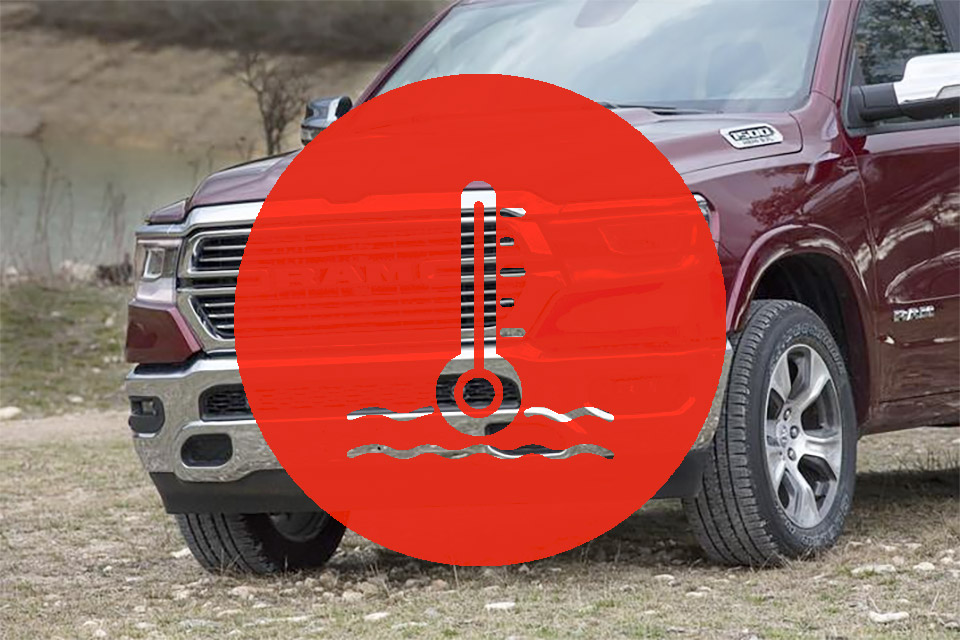 The 3.0L EcoDiesel engine's exhaust gas recirculation (EGR) cooler is known to form microcracks that allow coolant to leak and start a fire. Ram recalled the issue in 2019 but a series of delays and backordered parts left many owners in vulnerable positions.
What is an EGR Cooler? ∞
One way to reduce an engine's emissions is to recirculate exhaust gases back into the engine by using an EGR, or exhaust gas recirculation, system.
To prevent the extremely hot exhaust gases from overheating the engine, they're sent through an EGR cooler which often uses airflow and coolant to lower their temperature.
The dangers of the 4th generation Ram's leaky EGR Cooler ∞
The 3.0L EcoDiesel's EGR coolers are too fragile and can crack due to thermal fatigue. This sends pre-heated vaporized coolant into the EGR system which can cause combustion with the intake manifold creating engine fires.
At least 4 people have been injured trying to put out the flames before their trucks became a total loss.
Ram Recalls the 3.0L EcoBoost to Prevent EGR Coolant leaks ∞
Ram announced they would recall 160,000 trucks in October of 2019 to prevent EGR cooler leaks after what they called a "small" number of fires. The recalled trucks include the 2014-2019 1500 with the 3.0L EcoDiesel engine.
But the news was tempered by the automaker admitting a remedy for this condition is not currently available but that they were making every effort to finalize the remedy as quickly as possible....
Affected owners were told they'd be notified when a fix was available and to monitor their coolant levels in the meantime.
Delays and unmet expectations ∞
Despite the expectation that a fix would soon be available, owners waited for months all the while wondering if their trucks were safe to drive.
And by the time recall notifications were shipped there was already a large backorder of replacement parts. The international shortage became so bad that dealerships were advised to tell customers they should only replace the part if it had already failed ... which defeats the whole "I don't want my engine to catch on fire" thing.
A series of lawsuits ∞
Within a year after the recall was announced, Ram was hit with multiple class-action lawsuits. One plaintiffs said they had been waiting seven months for a replacement cooler when their truck filled with smoke and lost all power.
Five occupants were able to exit the truck before several explosions occurred and the Ram 1500 was engulfed in flames until the fire was extinguished by the fire department.
Two days later the plaintiff went back to the dealership and let them know about the fire. The Ram 1500 owner was allegedly told technicians could only fix one EGR cooler per week and his truck was number 20 on the waiting list.
Lawsuits Regarding This Problem
Lawsuits about this problem have already been filed in court. Many times these are class-action suits that look to cover a group of owners in a particular area. Click on the lawsuit for more information and to see if you're eligible to receive any potential settlements.
Generations Where This Problem Has Been Reported
This problem has popped up in the following Ram generations.

Most years within a generation share the same parts and manufacturing process. You can also expect them to share the same problems. So while it may not be a problem in every year yet, it's worth looking out for.
4th Generation 1500

Years

2012–2018

Reliability

11th out of 11

PainRank™

46.72

Complaints

934

Learn more about the 4th Generation 1500

5th Generation 1500

Years

2019–2020

Reliability

10th out of 11

PainRank™

14.2

Complaints

64

Learn more about the 5th Generation 1500
OK, Now What?
Maybe you've experienced this problem. Maybe you're concerned you will soon. Whatever the reason, here's a handful of things you can do to make sure it gets the attention it deserves.
File Your Complaint

CarComplaints.com is a free site dedicated to uncovering problem trends and informing owners about potential issues with their cars. Major class action law firms use this data when researching cases.

Add a Complaint

Notify CAS

The Center for Auto Safety (CAS) is a pro-consumer organization that researches auto safety issues & often compels the US government to do the right thing through lobbying & lawsuits.

Notify The CAS

Report a Safety Concern

The National Highway Traffic Safety Administration (NHTSA) is the US agency with the authority to conduct vehicle defect investigations & force recalls. Their focus is on safety-related issues.

Report to NHTSA